Did you know that sheet pan meals are for more than just dinner? You can make a rocking sheet pan meal for breakfast, too!

Seriouslty, guys. The glory of sheet pans is just never freaking ending, I swear. No other style of cooking means you can:
-Easily cook for a crowd
-Easily cook for your family
-Cook with little prep
-Get a meal made without remembering to turn a crockpot or Instant Pot on earlier in the day
-Use literally one pan to get a meal on the table
I mean, I'm kind of obsessed with them and I know you are, too.

In my book, the Healthy Sheet Pan Cookbook, I share 10 GREAT breakfasts. In fact, here's a sneak peek at the recipe list for that section:

Gah I am so so excited for you all to get your hands on this book! It's full of real-life recipes that you can use to save your busiest night. Or, you know, your morningtime, too!

---
---
So with that, I'll move on to my big fat list of sheet pan breakfast recipes!
---
Sheet Pan Breakfast Bake from Damn Delicious: Cheesy hashbrowns, bacon, and eggs, cooked on one big glorious pan. It's a beautiful thing.
Slab Quiche with Goat Cheese and Caramelized Onions from MyRecipes.com Using a frozen puff pastry sheet gets this quiche in and out of the oven faster!
Paleo Sheet Pan Breakfast from Bettered Blondie: sweet potato rounds, bacon lardons, and fried eggs = breakfast perfection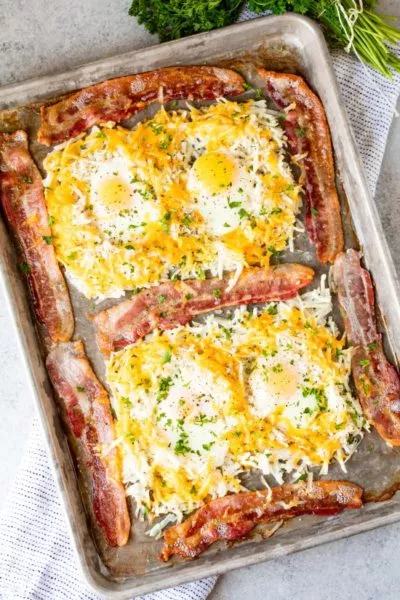 One-Pan Breakfast Bake from Stay At Home Chef: Bacon, hashbrowns, and eggs all piled on a pan makes a beautiful mess in the morning.
Sheet Pan Breakfast Stacks from Melissa's Southern Kitchen: Tater tots (genius) are the base for these create-your-own stacks of flavor.
Sheet Pan "Half English" Breakfast from The Kitchn: If you're familiar with a full English, this will make you want to put on some tea
Sheet Pan American Breakfast from Food52: After you've had your half English, tuck into an American-style diner breakfast on a pan.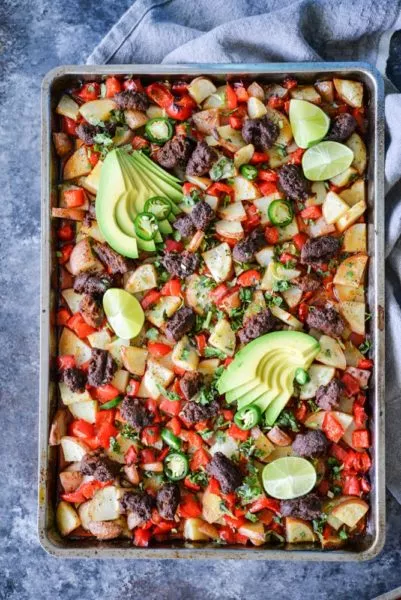 Chorizo Sheet Pan Breakfast from Fed and Fit: Tomatoes, avocadoes, lime, red pepper, potatoes: this breakfast will fill you up and makes an excellent meal prep at the start of the week
Sweet Potato, Kale, and Sausage Sheet Pan Bake: She finishes this glorious sheet pan breakfast up with a big drizzle of sriracha and I am adding it to my meal plan immediately.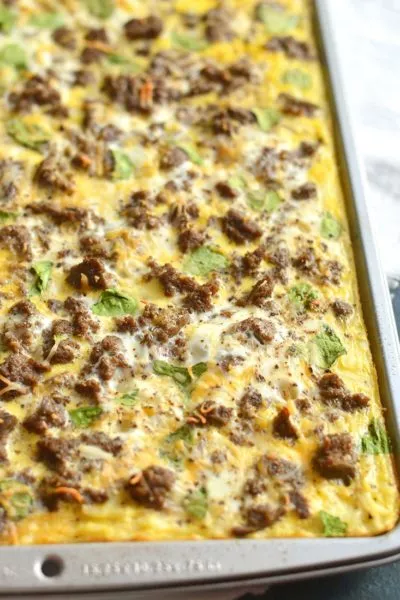 Sheet Pan Breakfast Pizza with Sausage and Potatoes from Skinny Fitlicious: I mean, come on. Pizza. For breakfast. Not last night's leftover cold pizza, either. Yes, please!
Sheet Pan Tater Topped Breakfast Pizza from Pillsbury: As if the idea of breakfast pizza isn't amazing enough, then your favorite frozen-dough company goes and adds tater tots on top.

---
From breakfasts pizzas to hashbrown messes and everything in between, sheet pan breakfasts are a whole new world of flavor – even better when you've got only one pan to wash!

---
---
Don't forget to grab your copy of the Healthy Sheet Pan Cookbook, full of 60 recipes and formulas to get you cooking faster on weeknights!