Make ahead breakfast casseroles are the perfect morning meal, no matter if you're feeding a crowd or trying to get on top of a few days worth of breakfast prep.
One thing every one of my busy mama friends tells me is this: Mornings are freaking hard with little kids.
Remember those heady pre-kids days when our coffee was hot, our showers were hotter, and we could listen to the news without the background noise of cartoons?
The glory days, man.
But those days of calm mornings are behind us (and, eventually, ahead of us)
So for here, for now, we're in the get-everyone-out-the-door-without-going-berserk phase.
And on the crazy days, having breakfast made ahead of time is a life saver.
A sanity saver, too. Time saver, even!
---
---
Breakfast casseroles are the best at this. Make a big pan (or two!) on Sunday, divide it up, and BOOM PRESTO, breakfast is over and it's time to go get your shoes on.
I've rounded up some of my favorite breakfast casseroles from the interwebs here for you!
Also, I helpfully separated them into the three categories I find most breakfast casseroles fall into: Paleo/Keto/Healthy/Gluten-Free, Sweet Casseroles, and Basic Breakfast Casseroles.
Oh, and here's a tip: If you want to make your own breakfast casserole with what you've already got on hand, this is my basic ratio. I like to start with this, and then I play around with flavors:
Line a 9×13" baking pan with bread cubes.
Mix 8-10 eggs with 1 ½ cups half and half and pour on top
Add cheese and protein, like sausage
Bake at 350*F for about 18 minutes, until the middle of the pan is set.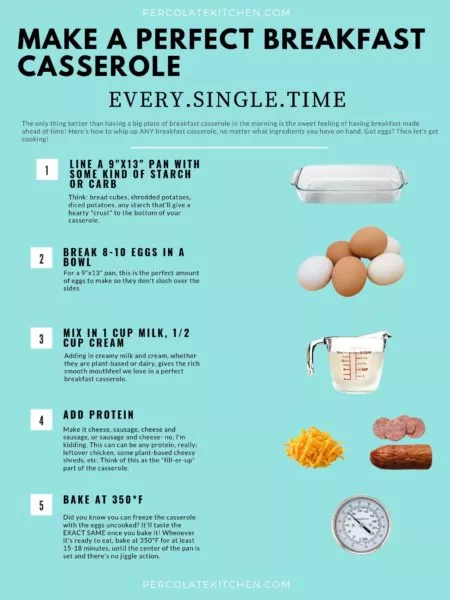 Here's the rest of the list; I'd love to hear your favorites in the comments below!
---
Gluten-Free
Spiralized Sweet Potato Casserole (<<this is my favorite one on the list!)
Turkey and Egg Breakfast Casserole
Bacon, Egg, and Spinach Breakfast Casserole
Cracked Out Grits and Ranch Breakfast Casserole
Veggie-Loaded Breakfast Casserole
On the Sweet Side
Cinnamon Roll Breakfast Casserole
Apple Fritter Breakfast Casserole
Blueberry Buttermilk Pancake Casserole
Caramel Pecan Breakfast Casserole
Baked Pumpkin French Toast Casserole
Crockpot Cinnamon Roll Casserole
Back to Basics
Sheet Pan 'Quiche' (<<my second fave on the list!)
Ham and Cheese Breakfast Casserole
English Muffin, Apple, and Sausage Egg Bake
Chicken and Waffles Breakfast Casserole
Pear, Leek, and Cheddar Savory Bread Pudding
Eggs Benedict Breakfast Casserole
Biscuits and Gravy Breakfast Casserole
---
---