The humble black bean gets its chance to shine as a meat substitute in these vegan, gluten-free meatballs!
Black beans, red onion, and old fashioned rolled oats are blended together with seasonings to create a paste, which is then rolled into meatballs and baked on a sheet pan.

We love these easy meatballs for a meatless Monday take on spaghetti and meatballs. And my kids love these meatballs with ketchup on top for an easy kid dinner.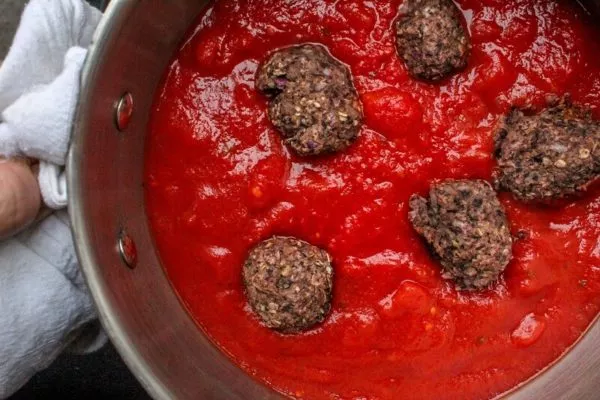 My kids love these balls as-is with a side of ketchup, but these meatballs are also fabulous as a meat substitute for spaghetti and meatballs. They do break apart quite easily once tossed with pasta and sauce.
Most old-fashioned oats are naturally gluten free but the way they are processed means that sometimes the gluten from other parts of the grain can be mixed in. Either regular or specifically gluten-free oats may be used interchangeably in this recipe.
Theese meatballs also great when served like falafel, with pita bread and Greek yogurt!
Ingredients
15 ounces canned black beans, rinsed and drained (or 1 ⅔ cups cooked)
1 red onion
2 cloves garlic
1 cup gluten-free old fashioned oats
½ teaspoon salt
½ teaspoon paprika
1 teaspoon cumin
Instructions
Preheat the oven to 350*F.
Peel and the onion and garlic.
Roughly dice the onion.
Add all ingredients to a food processor and blend, pausing occasionally to scrape down the sides of the bowl, until mostly smooth.
**If you don't have a food processor, make sure to chop the onion and garlic finely, and then use a potato masher to combine all ingredients into a paste.
Spray a sheet pan with oil or line with parchment paper.
Scoop out tablespoon-sized balls, roll into meatballs, and place on sheet pan, leaving a little space between each ball.
Bake for 10-12 minutes, or until the onion is cooked and the balls are not wet in the center.
Remove and serve warm.