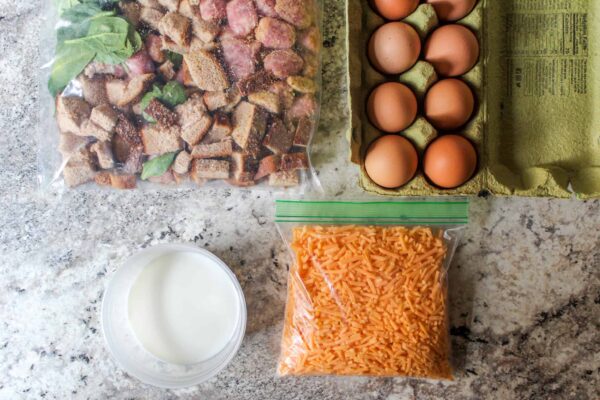 Classic Breakfast Casserole
Prep Time: 10 minutes
Cook Time: 30 minutes
This hearty breakfast keeps for up to 2 months if wrapped tightly in the freezer. Change up the veggies if you prefer, or go meatless; this is a really forgiving recipe with room to maneuver!
Ingredients:
6 slices of whole-wheat bread
1 lb breakfast sausage links, sliced into ¼"
1 cup fresh spinach, packed
2 teaspoons mustard powder
½ teaspoon salt
¼ teaspoon freshly cracked black pepper
1 cup half and half
9 eggs
2 cups shredded cheddar cheese
Prep Ahead:
Cube the bread and toss with the sausage and spinach leaves. Transfer to a resealable bag or container.
If needed, shred the cheddar cheese and transfer it to a resealable bag or container.
The bread and spinach will store in the fridge for up to 4 days. It will last for up to 3 months in the fridge.
The shredded cheese will last for up to 1 month in the fridge and up to 4 months in the freezer.
Prepare From Prepped:
Thaw ingredients as necessary.
Preheat oven to 350*F.
Follow steps 4-7 in the instructions.
Make From Fresh:
Preheat the oven to 350*F
Cube the bread into ½" pieces.
Slice the sausage into ¼" coins
Toss the bread cubes, sausage, and spinach together in a large bowl, then spread evenly on the bottom of a greased casserole dish.
In a medium-sized bowl, combine the mustard powder, salt, half and half, and eggs. Whisk until well combined.
Pour over the bread and spinach, gently stirring to make sure all spinach leaves are covered in the egg mixture.
Spread the shredded cheese evenly on top and place the dish in the oven.
Bake for 25-30 minutes until the eggs have set and the cheese is melted.