A ground chicken burger that's mixed with green olives and topped with melty swiss? Heck yes.
Ok, let's get a little weirder up in here with our chicken burger: top that baby with black pepper mayo.
Say what!?
I KNOW. It's a little offbeat but it so works.
The green olives add briny moisture to the ground chicken burger mix, and the melty cheese holds it together, and the black pepper mayo on top is just the kick you need to kill it at making easy dinner on the grill on a weeknight.
The thing with ground chicken burgers is that they often come out a little dry. There's not nearly enough fat in the mix to keep things nice and moist, the way a great burger should be.
So adding chopped green olives to the mix is a slightly different, totally tasty way to change things up and at the same time make that burger patty the best it can be.
The idea behind this ground chicken burger with green olives came to me at a diner in Northern Michigan last fall.
I was visiting my parents in my hometown and we grabbed a bite to eat at a local restaurant. I ordered the chicken burger topped with sliced green olives and swiss, and it was… underwhelming.
It's a common sandwich in the Midwest: grilled chicken breast topped with sliced green olives, topped with melted swiss cheese. It's served in a bun like a hamburger would be, but most of the time that's where the similarities end.
What if, I wondered, slathering on more mayo to cover up the dryness of my chicken sandwich, you could make a better chicken burger by blending the green olives into a ground chicken mix?
Drumroll….. it works! So well. Those olives up the moisture and the flavor. The melted swiss gives it more of a "burger" feel. And that black pepper mayo is just because I'm obsessed with the stuff and it goes well with everything.
Things to remember when making these ground chicken burgers:
For the green olives:
Start with pitted green olives to save yourself the hassle
If you don't feel like chopping them by hand, toss them in the food processor and pulse until they're roughly diced
Don't feel the need to go with fancy green olives here; plain ole' martini olives will work great
For the black pepper mayo:
When you're grilling:
Make sure to oil up the grill pan or grates before you add the patties. Despite the olives adding moisture, chicken burgers still don't have a ton of fat in them. That means they lack grease, which means they have a tendency to stick to the grill. Adding oil will help when you flip halfway through.
Other than that, I love these easy ground chicken burgers as a changeup from the usual. It's a healthier version of my beloved hamburger, and the extra additions make it better than most. Enjoy!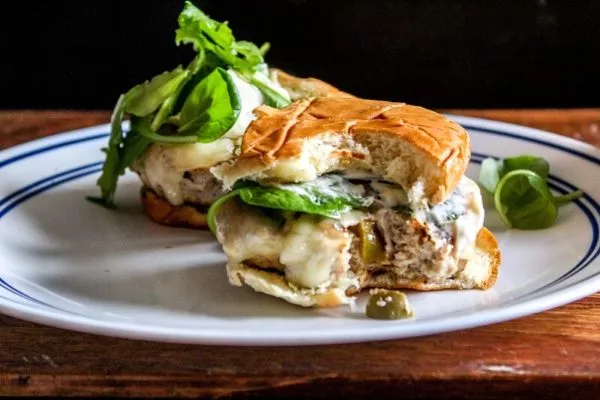 Print
Chicken and Green Olive Burger with Black Pepper Mayo
---
2

pounds ground chicken

1/2 cup

chopped green olives

1 teaspoon

ground mustard
spray canola oil

4

–

6

slices swiss cheese

1/4 cup

mayonnaise

1 teaspoon

freshly ground black pepper
Burger buns (for serving)
---
Instructions
Heat a barbecue grill or cast-iron grill pan over medium-high heat.
While the grill is heating, combine the ground chicken, green olives, and ground mustard in a large bowl. Stir to combine thoroughly.
Form the chicken mixture into patties.
Spray the grill with oil, then place the patties on the grill, leaving an inch or so of room between each.
Grill 3-4 minutes, then flip. Top each patty with a slice of swiss cheese.
While the second side is grilling, mix together the mayonnaise and black pepper in a small bowl.
After the chicken patties have cooked all the way through, remove from the grill and place each on a bun. Top each patty with a dollop of black pepper mayo and serve.
---