[updated May 30, 2019] Set up "Build-Your-Own Dinner Bars" and watch your kids happily eat their dang dinner for once in their lives.

---
I get sick of the dinnertime fight with my kids. There, I said it. Some nights, I am O-VER IT. I gotta find something to make for dinner when I'm struggling to summon the energy to cook.
People say this to me a lot: "Oh, you're a chef! Your kids must be such good eaters!" To which I always reply, "Yeah, but… no, because they're children."

My kids (aged 2 and 4 and insanely stubborn) aren't actually picky eaters. There are very few things they truly won't eat, or have genuine aversions to.

What they are, though, are frustratingly indepent little thinkers who love to choose dinnertime as the exact moment to push every boundary I have.

Ever seen this meme? This is my life at 6pm every night: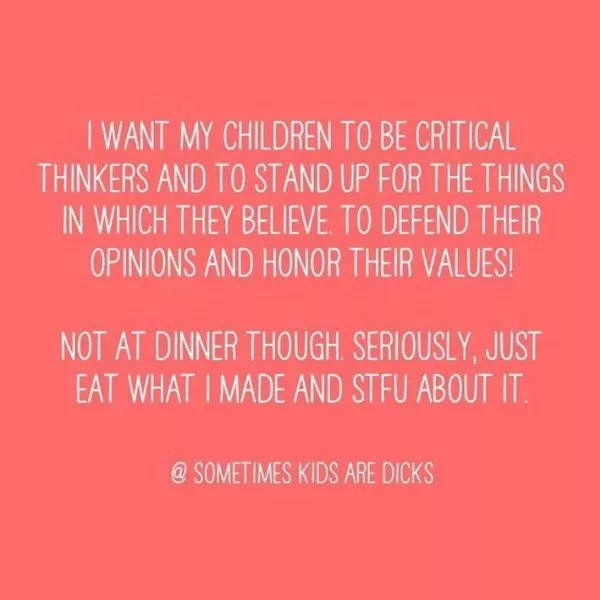 Maybe it's my fault; maybe they know that dinner hour is the time of the day when my defenses are at their lowest. But after being reasonably great kids all day, eating normal breakfasts' and lunches and snacks, they tend to take a stand when it comes to eating any dinner that's not head crushingly boring, like breaded chicken.

I am so sick of breaded chicken.

So, rather than fight with them every night about dinner (and rather than make breaded chicken every night for the next 18 years), I started doing this one little thing that actually got my kids to eat their dinner:

I took them to the bar.

Oh, I kid, I kid. I didn't actually take them to a BAR.

I made a "Build-You-Own Dinner Bar" in the kitchen, handed them a plate, and told them to help themselves.
What's a Build-Your-Own Dinner Bar, you ask, and how it is going to get my kids to eat?
And, even more importantly, how's this idea gonna get me out of figuring out what to cook tonight?
A Build-Your-Own Dinner Bar is akin to setting up a buffet in your kitchen and letting every family member decide what they'll add to their own plate, within reason.
It goes hand-in-hand with one of my guiding mealtime principals, which I get from Ellyn Satter: "You choose what time the meal is and what's being served. They choose what food they'll eat and how much."
It's part of the Division of Responsibility, a game changer as far as picky eaters are concerned. It gives kids the power to make decisions around food- but within a framework that you set-up and control. This gives kids autonomy while letting them know they are still being guided by you, the parent.

And a DIY, Build-Your-Own Dinner Bar goes hand in hand with this philosophy. You decide what goes on the Dinner Bar. They decide how they'll put their dinner together and, through that, are more motivated to actually eat what's on their plate, since they put it together.

Plus, DIY Dinner Bars are fun!

---
Before we get into the examples, you're gonna love this: a FREE video training series where I'm breakin' it down- every secret kitchen tip, hack, meal planing advice, etc. All in 4 super short videos! Click here to access.
---
Here are a few examples of Build-Your-Own Dinner Bars that you can make in your own kitchen this week:
Baked Potato Bar
Baked potatoes, either white potatoes or baked sweet potatoes
Toppings like sour cream, minced chives, butter
Fillers like browned sausage or sauteed spinach
Check out these posts about building a Baked Potato Bar:
Baked Potato Bar from Moneywise Moms
23 Amazing Ways to Eat a Baked Potato for Dinner from Buzzfeed
Chili Bar
Different styles of chili, like beef, vegetable, or sweet potato
Toppings like sour cream, shredded cheese, diced red onion, diced avocados
Check out these posts about building a Chili Bar: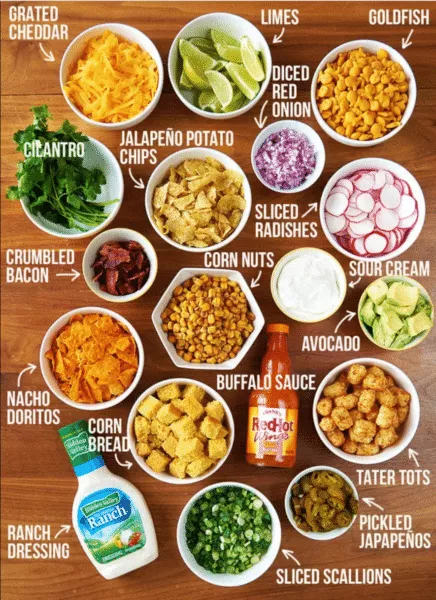 Epic Slow Cooker Chili Bar from Buzzfeed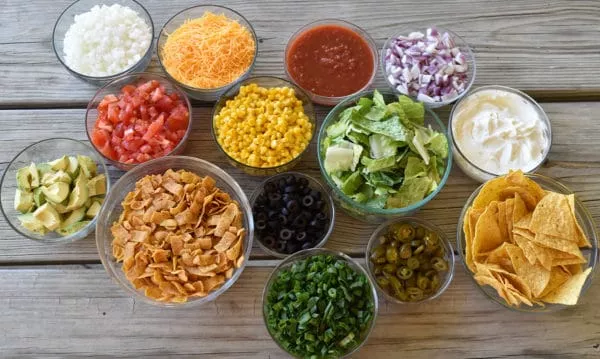 How to Throw a Chili Bar Party from Beef Loving Texans

Pasta Bar
Different types of cooked pasta shapes like angel hair, rotini, farfelle
Sauces like marinara, alfredo, garlic & oil
Additions like roasted veggies or meatballs
Toppings like shredded cheese or toasted breadcrumbs
Check out these posts about putting together a Pasta Bar:
Make A Family Pasta Bar from the DIY Mommy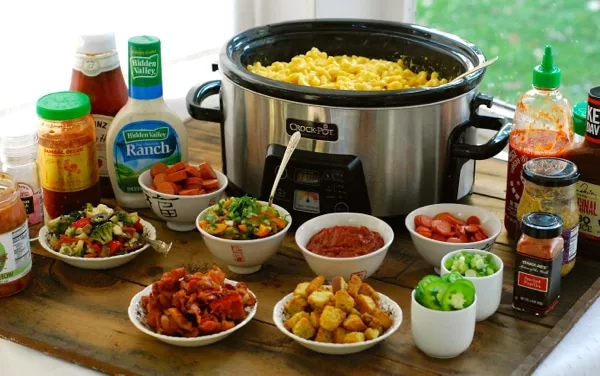 Slow Cooker Mac and Cheese Bar from Chin Deep

Taco/Fajita/Burrito Bar
Tortillas, either soft or crunchy
Fillers like browned beef, chickpeas, seared chicken, sweet potatoes (psst, this is my homemade taco seasoning!)
Toppings like diced avocado, sour cream, diced red onion.
Check out these posts about putting together a Taco/Fajita/Burrito Bar: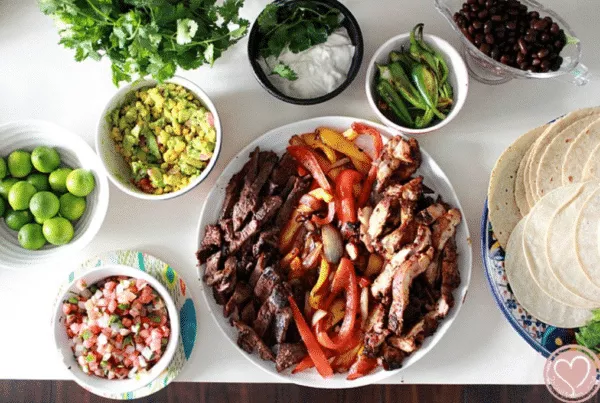 Easy Fajita Bar from Desumama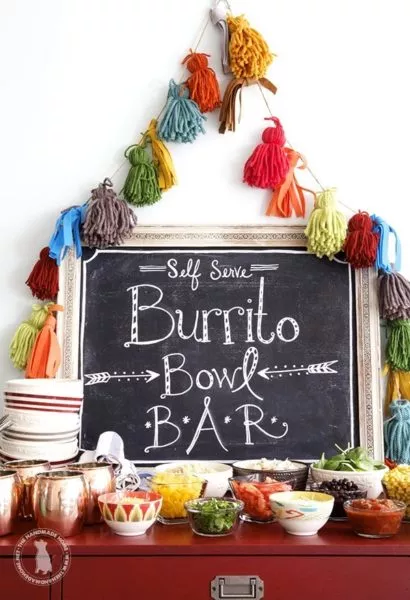 Easy Burrito Bowl Bar from The Handmade Home

Pizza Bar
Flatbreads, like naan bread or a pre-made crust
Pizza sauce
Toppings like shredded mozzarella, ricotta, oregano, mushrooms and sausage
Check out these posts about putting together a Pizza Bar:
Build Your Own Pizza Bar from Mom to Mom Nutrition
Build-Your-Own Pizza Party from Lauren Conrad

---
I love these suggestions! And trust, they work. Let your kids do half the work while you reap the rewards. You've earned it, mama.

---