Here's an easy gluten-free breakfast casserole that's perfect for special occasions or busy weeks!
A few months ago, I got a spiralizer.
It's a pretty cool piece of equipment (and surprisingly affordable!) but not being gluten-free, I'd run out of ideas to do with it!
Because #tinykitchenlife, I am also starting to run out of places to put specialty kitchen equipment, so I wanted to find a few ways to get good use out of the spiralizer before needing to rethink my storage options.
And, with Christmas coming, I've got breakfast casseroles on my mind!
We have an easy make-ahead breakfast casserole every Christmas morning, and it's honestly one of my favorite parts of the holiday!
I love digging into a warm plate of breakfast casserole.
Melty gooey cheese smothering salty sausage, all baked with cubes of crusty bread and custardy eggs. It's heaven.
But what if, I thought, you subbed out those crusty bread cubes for another type of starch? Then, the gluten-free members in my family could enjoy breakfast casserole too, instead of glancing longingly at it and then eating something different.
Enter one slightly neglected spiralizer plus one fat, peeled sweet potato. The result is this craaaaaazy delicious, gluten-free, super simple breakfast casserole!
Seriously, this baby is only 6 ingredients deep. (7 if you count the salt)
It's great as a make-ahead option (in fact- I think it's even tastier when left in the fridge overnight).
It's still loaded with cheese and sausage and creamy eggs, so you're not missing out on any holiday morning decadence. (although I bet if you lightened up the cheese and swapped regular sausage for something like turkey sausage, you'd be lighter still in calories).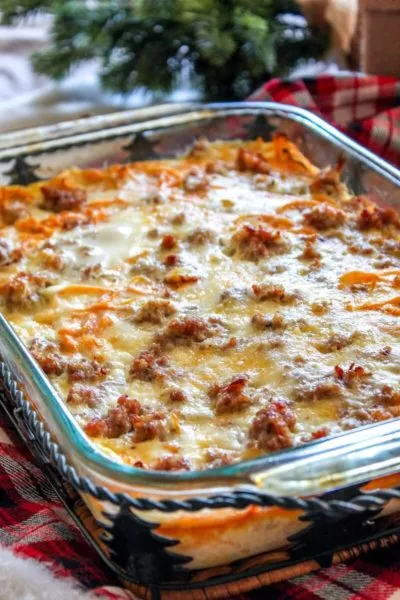 The original recipe is borrowed in part from the make-ahead breakfast casserole my family makes every Christmas morning.
That original recipe is a standard one, loaded with cubes of good-quality, sturdy bread. In this new make-ahead breakfast casserole recipe, I kept many of the same components as the original, and simply swapped out the bread for spiralized sweet potatoes.
See also two of my other fave breakfast casserole recipes, this Classic Breakfast Casserole (with prep-ahead instructions included) and this fan-favorite Sheet Pan 'Quiche' with Leftover Veggies.
The starch in the sweet potatoes works similar to bread in this dish, but it changes the texture so that in every mouthful, you get soft strands of sweet potato along with the cheese, eggs, sausage, and seasoning.
It's a fun little changeup from the usual, and one that I'm sure I'll be making more of in the future!
Spiralized Sweet Potato Gluten-Free Breakfast Casserole
Gluten-free breakfast casserole made with spiralized sweet potatoes and sausage; easy to make ahead and great for a crowd.
What's a Prep Sesh?
Click HERE for details!
Ingredients
1

pound

sweet Italian sausage

casings removed

1

sweet potato

about 1 pound

2

tablespoons

cornstarch

2

cups

shredded mild cheese

such as gouda

10

egg

3

cups

whole milk

1

teaspoon

salt
Instructions
Make From Fresh:
In a saucepan over medium heat, cook the sausage until browned, crumbling it into small pieces as it cooks. Once cooked, drain and set aside.

While the sausage is cooking, peel the sweet potato and discard the skins. Insert the sweet potato into a vegetable spiralizer, and spiralize the entire potato. You should have about 2 cups of spirals when finished. Toss the spirals with the cornstarch and set aside.

In a separate, large bowl, whisk together the shredded cheese, eggs, whole milk and salt. Stir in the sausage until fully combined, then add the sweet potatoes. Stir until combined, then pour the mixture into a 13"x9" baking dish. Cover with plastic wrap and let sit in the fridge overnight.

When ready to bake, preheat the oven to 375*.

Remove the plastic wrap and bake the casserole, uncovered, for 40-45 minutes or until the center is set and doesn't jiggle when moved.

Remove from the oven and let sit until cool enough to handle. Serve warm.
Notes
Spiralized sweet potatoes add heft to this breakfast casserole without the bread. Use a mild, melty white cheese that's not too sharp, so as to not overpower the flavor of the sweet potato. I haven't tried it this way yet, but I think a spicy sausage such as chorizo would do really well here, if spice is your thing. This is a make-ahead recipe by definition, since it needs to sit overnight before baking in the morning.