These sticky bourbon chicken skewers are not only an easy party appetizer, they're incredibly additive. You can't stop after eating just one!
I'm telling you this as a friend: make sure you've got people standing around when you take these babies off the stove, because once you taste one, you'll want to eat the entire platter, sticky fingers and all.
You think I'm joking? I double dog dare you to not eat just one. Go ahead! Try me.
The best part about this easy party appetizer isn't that the chicken marinade is made with bourbon (hello!), it's that they've only got a handful of ingredients to start with (so simple).
This means that you have more time to make other appetizers, enjoy time with your guests, and actually get to enjoy your own party.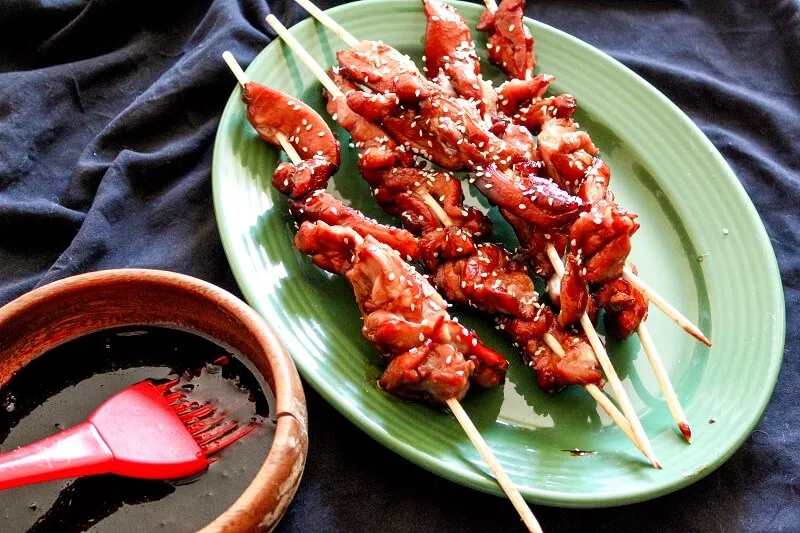 As a die-hard Type A, I'm the captain of the Party Host Struggle Bus. I worry and stress so much that everyone is enjoying themselves and having a good time, that I forget to have a good time myself.
Do you feel me? Or are you one of those lucky Type B people, one who can actually chillax and enjoy themselves when they're hosting.
If so, then maybe you're also the type who can make an easy party appetizer like these Sticky Bourbon Chicken Skewers and not stand over the stove, eating them one after the other.
I'll applaud you for your stamina.
Then I'll go right back to trying to find the chill I wasn't born with.
---
Related: Easy Appetizers for a Last-Minute Holiday Party (& a Video!)
---
What I have gotten better at, though, is enjoying hosting parties.
To get to this point, I've created a short list of my favorite easy appetizers. Recipes like this and this and these.
Then I can use those easy party appetizers to get tasty, simple food on the table quickly, so that I can then sit with my guests and you know, have fun at my own party! Incredible, right?
Sticky bourbon chicken skewers fit the easy party appetizer bill to a T. I love how the sweetness is cut through by the smoky bourbon, and the smattering of sesame seeds lends a bit of crunch
You can skip the skewers if you'd like, and just cut the chicken up into bite-sized pieces and stab them with toothpicks.
The star of this recipe is the marinade, so whether you serve the chicken on skewers or not is secondary.
Just make sure you remember to have fun! (although pssst… the bourbon helps that part!)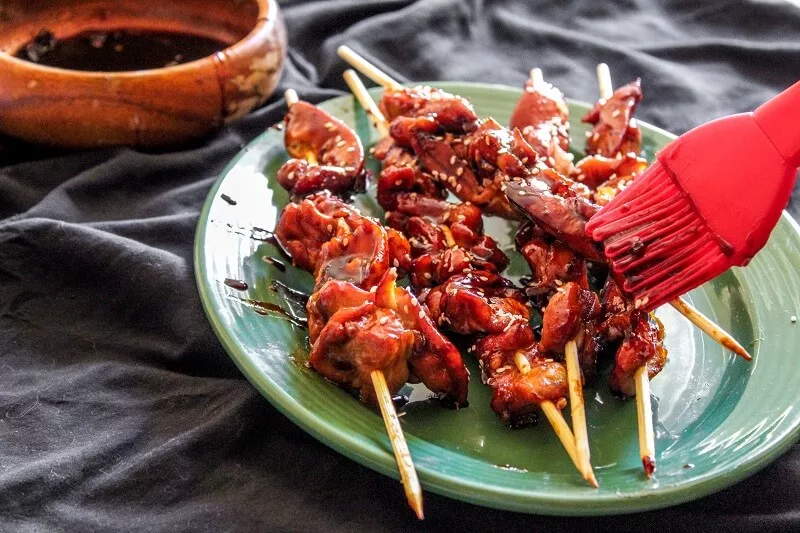 Print
Sticky Bourbon Chicken Skewers
---
Ingredients
1 pound boneless (skinless chicken (thighs or breast))
6-8 wooden skewers
1 tablespoon olive oil
½ cup honey
¼ cup soy sauce
2 tablespoons Worcestershire sauce
2 cloves garlic (minced)
¼ cup bourbon
---
Instructions
Cut the chicken into long strips, then skewer. Set aside.
Combine the rest of ingredients in a bowl and whisk until smooth.
Add the sauce to a large, wide saucepan set over medium heat. Bring to a simmer, then lower the heat.
Add the skewers and turn in the sauce to coat.
Cook until chicken is cooked through, about 8-10 minutes. Turn occasionally to prevent the sauce from burning.
Remove the chicken skewers from the pan and set aside. Spoon any remaining sauce into a bowl to be used as a dipping sauce on the skewers.