If you're not sure bullet journaling is right for you, then a bullet journal hybrid may be!
Bullet journal hybrids take elements of bujo and apply them to a traditional pre-printed planner. Here are some examples:

Some of the links below are affiliate links, which means I'll receive a (likely very) small commission if you make a purchase after clicking through. Thanks for keeping me in coffee money!
Bullet journal hybrids are a cross between a traditional planner and a bullet journal. For some, they take the work off bullet journaling's customization demands. But is it worth the effort?

Bullet journal hybrid, put simply, is this: when you take a pre-printed planner and add bullet journal methods to it, such as habit trackers, migrating to-do lists, and so on.

The cool thing about bullet journal hybrids is that you don't have to do some of the upfront work of designing monthly calendars and weekly spreads since the pre-printed pages are there for you.

No more mouthing out numbers as you count spaces to determine the perfect day-of-the-week size; the squares of a whole month are already there, waiting to be filled in.

If you're busy and not artistically inclined, but you like the idea of bullet journaling, bullet journal hybrids can be a total time saver.

---
(If you want to see how I set up my regular old bullet journal as a busy mom, you can read this post)

---
Because the thing that I find overwhelms people most about starting a bullet journal isn't that they think it's an odd concept, but that they don't know where to start.

The work to set one up, the myriad of opportunities to create something ugly or useless, are so much that you're just like, "pass", and head to the nearest planner section of Staples instead.

---
(If that's you, I have a post outlining the first few steps you need to take to set up a bullet journal so you can get moving on it. You can read that here!)

---
If deciding on monthly spreads and calendars and weekly organizations doesn't jive with you, then a bullet journal hybrid may be just the ticket. You call on the organization of a planner, then fill it in with bullet journal "shortcuts", like habit trackers, migrating to-do lists, and so on.

What kind of planners work best as a bullet journal hybrid?

The more I've looked into bullet journaling hybrids, the more I find people typically use one or two brands of pre-printed planners:
The Happy Planner. I used a Happy Planner for years and adored it. It uses a disc-based system to hold in the pages and has plenty of additional accessories to add, like meal planners, financial trackers, etc.
Filofax Like the Happy Planner, the Filofax Planner is a disc-based system, just like the Trapper Keeper you had in high school. Pages can be moved around and extra ones can be added in, adding to the customization of your planner.
The Day Designer Doesn't have space to add extra pages, but the pages of a Day Designer are big, with plenty of room for adding the lists and trackers you want.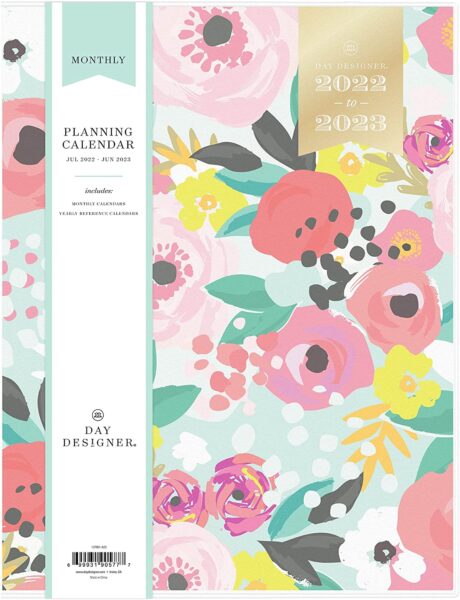 Bloom Planners Like the Day Designer, the Bloom Planner doesn't have a way of adding extra pages. But it does offer plenty of soul-searching pages to fill in, and the weekly spreads are nice and big for adding in extra lists and trackers.
If you love the idea of changing a pre-printed planner around to be a bullet journal hybrid,the web's got great ideas.

Talia from Brightly Imagined shows here how she breaks down a Happy Planner into bullet journal methods for her hybrid. I love how she uses washi tape to change the layout of the pages around:
---
---
Emma from emmakisstina.com uses a Filofax and its ability to add pages so she can create some bullet journal pages but also the organization of a Filofax (and the prety leatherbound cover)
---
---
You can also check out the hashtag #bujohybrid on Instagram for inspiration, which is what I first did: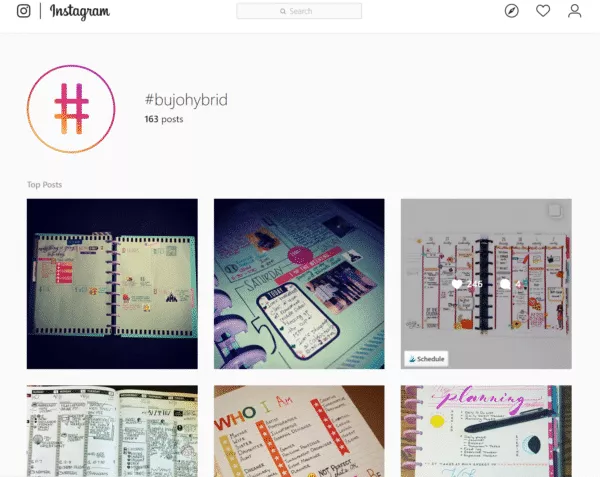 In particular, I love this Instagram tracker that @zombabesplans added to her Happy Planner:
And also this one from @planningwhimsy, who starts out with the Happy Planner and customizes the pages.

So there you have it, kids! Bullet journaling meets traditional planners, and you don't even need to break a sweat. Let's head into the new year with our sh*t together, shall we?